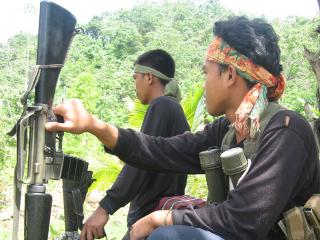 Communist New People's Army (NPA) rebels in police uniform on Tuesday blocked and disarmed the vehicle of a local official in Zamboanga del Sur province, the police and military said.
Pitogo Mayor Richard Garban and his policeman escort lost several firearms, including high-powered ones, to the more or less 15 rebels who flagged their vehicle in front of Mati Elementary School in San Miguel town, according to a report from the the Police Regional Office 9.
Capt. Jefferson Somera of the Army's 1st Infantry Division said Garban and his escort did not resist when accosted by the rebels who were wearing the uniform of the Philippine National Police Special Action Force. Garban was on the way to Pagadian City at that time.
"They were in SAF uniforms when they intercepted the vehicle of the mayor," said Somera of the rebels, who are now being pursued by the Army soldiers.he rebels were wearing Philippine National Police camouflage uniforms, the police report said.
Citing Garban, the police report said the rebels ordered them to disembark their vehicle before disarming them. After which, they were ordered to get back to their vehicle and proceed to their destination.
Seized from the victims were one Baby Armalite Rifle bearing serial number GO32274; a caliber 45 pistol with serial number BG00677; a caliber 9mm pistol bearing serial number X911101488 and owned by the mayor; a caliber 5.56 m16 armalite rifle, Elisco bearing serial number RPO54700, and a caliber 45 pistol, norinco with serial number 106478, owned by PO3 Julito Hacotano, Gamban's security escort.
Suspects immediately fled towards the mountainous area of Barangay Ocapan and Barangay Calube in San Miguel, according to the police report.
Police, in close coordination with Philippine Army's 53rd Infantry Division, have since conducted pursuit operations against the rebels.
Initial investigation showed the suspected NPA rebels are in the area flagging down passing vehicles going to Pagadian City, which included the vehicle of the mayor, it added.
Past incidents
Communist rebels have been known to disarm local officials as a form of harassment and also to beef up their weaponry.
In 2008, then-Loreto, Agusan del Sur mayor Romeo Magadan Jr.'s convoy were flagged down and disarmed by more or less 30 NPA rebels.
Two years later, or in 2010, NPA rebels blocked and disarmed the entourage of a mayor and his bodyguards while they were campaigning in Gigaquit town in Surigao del Norte.
In both cases, the local official and his companions were unharmed. — Amanda Fernandez/KBK, GMA News
MORE…