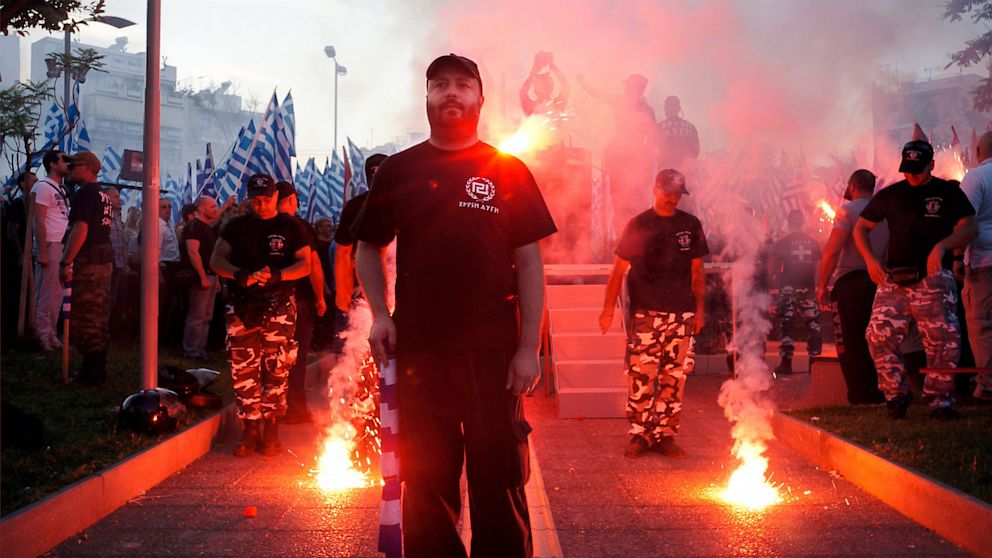 In Greece, a country crippled by debt and years of failed leadership, a young filmmaker went inside the hate-fueled, rebellious political party known as "Golden Dawn" to capture its members' vocal hostility against immigrants in a society on the brink.
Greece's ancient cities, where tourists can wander the shadows of the Acropolis and marvel at the origins of democracy and philosophy, are also dotted with shuttered businesses, gutted neighborhoods and vast unemployment — more than 60 percent of young people are without a job — causing widespread public fury.
Out of that vacuum of rage and suspicion marched Golden Dawn from the far-right, looking for someone to blame.
"Nightline's" Bill Weir talked with filmmaker Konstantinos Georgousis, who managed to charm his way into the inner circle of Golden Dawn. Over the course of a month, Georgousis captured unguarded moments of the group's sheer racist hatred toward Greece's immigrant community in his film, "The Cleaners."
"These parasites drink our water, eat our food and breathe our Greek air," Alekos Plomaritis, who was a Golden Dawn candidate running for office at the time, says in Greek, translated into English, in Georgousis' film. "They are primitive, miasmas and subhuman. We don't care about their existence. We are ready to open the ovens. We will turn them into soap, but we may get a rash."
To the "Golden Dawn" members, their country's problems lie with anyone with dark skin and foreign blood. As tensions rise, immigrants in Athens are faced with resentment in graffiti on building walls and from the fluttering red and black Golden Dawn flags that feature an ancient Greek geometric-era symbol.
"It kind of resembles the swastika," Georgousis said.
MORE PLUS VIDEO…